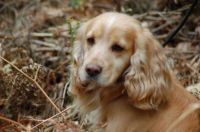 R.I.P. ROCKY, son of '02 FTCH Creignant Mordred
We had to say " Goodbye to Rocky 15/5/15 ", he was put to sleep after 14yrs 8mths of loyalty, it was a hard but right choice to take.
Rocky is a lemon dog, hard going, fearless in brambles and not afraid of anything, his pedigree name is Creignant Cyffredin of Windywood. He is my first Working Cocker, I wanted a different colour to the norm, as most are black or liver. He is from the '02 FTCH Creignant Mordred and is out of Ceffylog Chloe, his grandad is '99 FTCH Larford Cateran with Maesydderwen, Wernffrwd and Nancarrow lines in his pedigree. On a cocker training weekend in Derbyshire with Mike Berrisford, I had the privilage of meeting Hedley Millington, who's famous name of Nancarrow can be found in most pedigrees, he commented on Rocky and the way he works by saying " yup, he's got fire in his belly ", I also got him to sign the book he wrote called the 'The Cocker Man', a character that will be greatly missed.