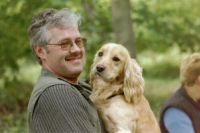 Home
Last Updated - JAN 2022
SUZY MATED WITH LOWALLIN HISSING SID COI 10.8%, 3 BOYS AVAILABLE

litters are only bred to continue my line, no more than 1 litter a year, complying with the law and local authority's
Welcome to the website of Windywood Working Cocker Spaniels.
We are a small outfit of Working Cocker Spaniels from Kempston in Bedfordshire and are hoping to breed a litter every other year of honest, hard going dogs, that will be fearless of any cover, but also easy to work with, have a good temperament, good looks and colour. I have been using working cocker spaniels for about 40yrs now, but have been around dogs for 53yrs. I am a committee member and the membership secretary of the London Cocker Spaniel Society (Field Section) now known as the London Working Spaniel Society. It was my Dad that got me into dogs, he had labs to start with, then he had a Springer Spaniel which was mental (as they normally are) he was offered money for it on plenty of occasions for it's working ability, but it was a smaller dog I was after but with the same pace and stamina of a springer, so Cocker Spaniels fitted the bill. All the books you read on Cockers say, they all have characters like little people and it's not until you own one that you find out they are right.
Please use the menu on the left to navigate the site.
We would appreciate your comments by signing our guestbook and any specific questions regarding the breed can be answered via the contact page
Thank you for visiting www.windywood.co.uk